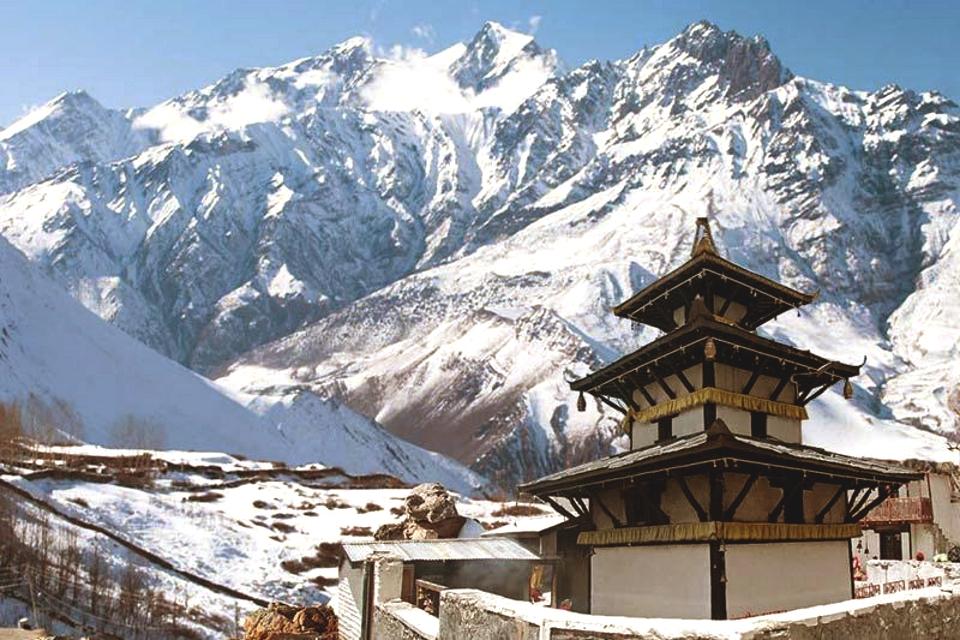 Muktinath Temple of Nepal and its premises are one of the great Pilgrimage site for both Hinduism and Buddhism follower. There are several holy sites in Nepal, belongs to or related to different god and goddess. Among them this shrine area is very special, Situated in the Lap of remote Mukthinath Valley area at an elevation of 3,710 metres (12171 ft), near to the Ranipauwa, at the base of the Thorung La pass (a part of the famous Annapurna Circuit trekking trail) in Mustang district of Nepal.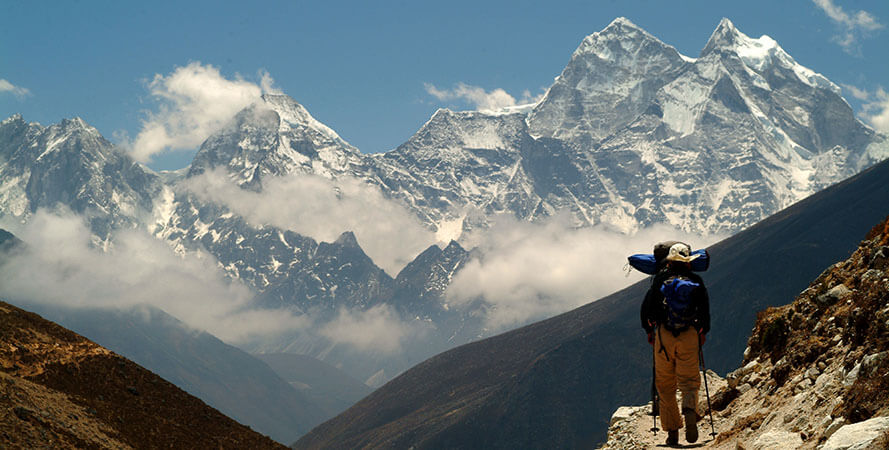 The term Muktinath is derived from the Sanskrit word called Mukti and Nath. Mukti implies Salvation or Moksha and Nath stand for Master or god. The temple of Muktinath lies in higher elevation since it is also known as sanctuary above the cloud. The mesmerizing scenic view of its surroundings tends us to feel that we are in the different world. So, the site is equal importance for the trekking enthusiasts and for real pilgrims as well.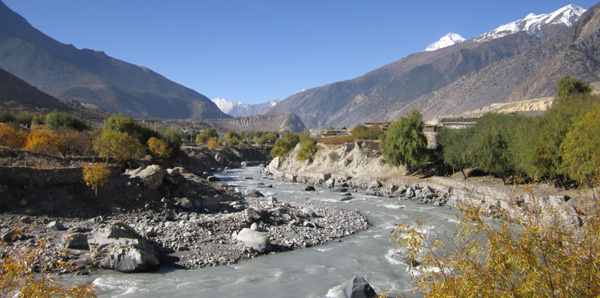 This sacred Muktinath temple area is also widely known as Muktikshetra and or Shaligram kshetra. Saligram is a precious holy stone, which is deeply considered and respected as the incarnation of Lord Bishnu by Hindu people. The term Muktishetra is derived from the Sanskrit word called Mukti means Moksha or liberation and Kshetra refers to Place, which represents the site of salvation. According to the religious belief, it is only one spot in the planet, where we can see all the five major elements (fire, sky, water, air, and earth) in one place by which the universe is made-up of.Despite being in challenging remote region, thousands of Pilgrims from a different corner of the world arrive here.
Muktinath Pilgrimage Tour is currently operated by Aventure Pilgrims Trekking . You can contact here for your customized itinerary.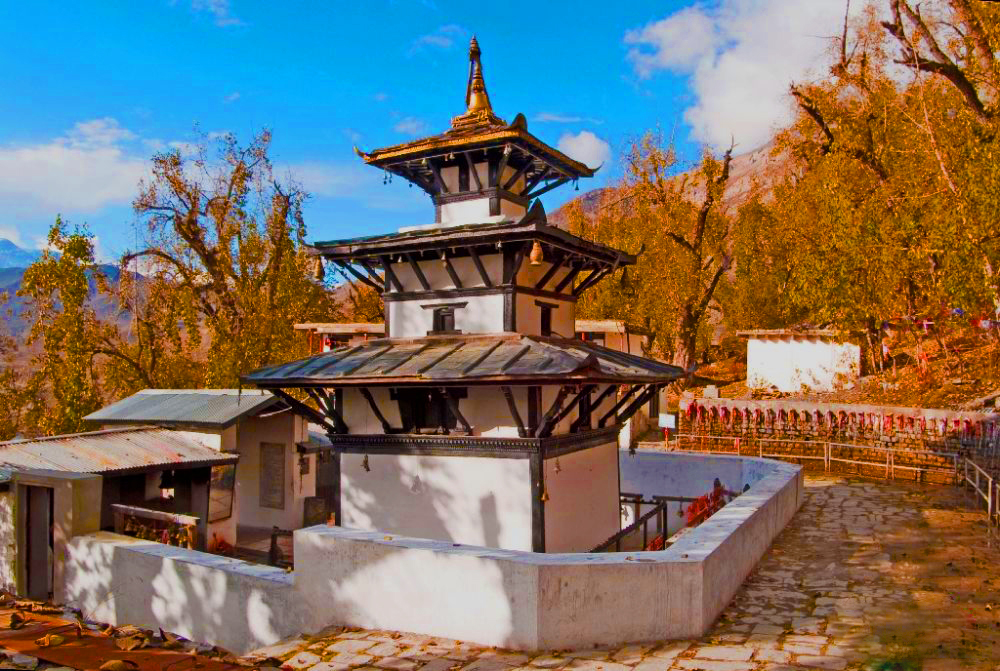 Local Attraction of Muktinath Temple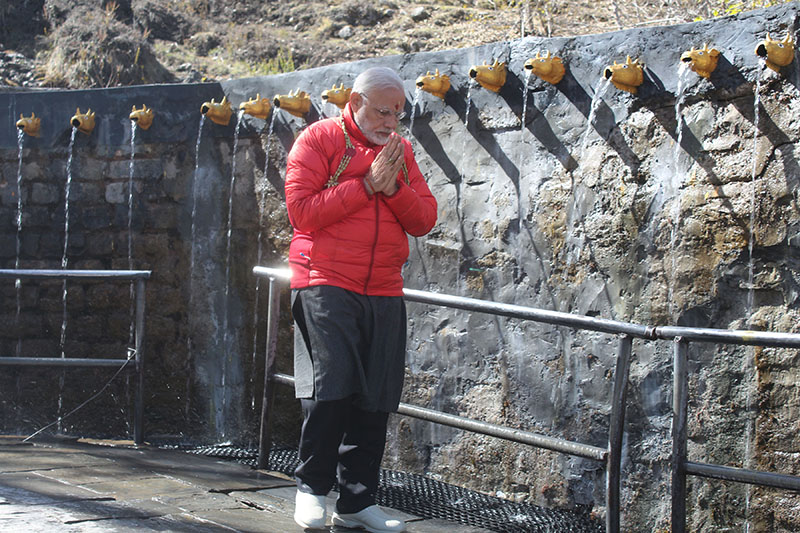 Behind the temple there are 108 waterspouts (Dhara) name of "Muktidhara". The 108 faucets in the shape of a head of a bull, closely arranged in a semi-circle with a gap of hardly a foot between the faucets, at a height of seven feet. The water from Gandaki River continuously flowing through the mouth of the bull. Pilgrims who visit the temple take a holy bath in each of these spouts. But as the water is ice cold it requires burning desire and courage to take a holy bath here. Hindu devotees take bath under chilled water of 108 waterspouts "Muktidhara" believing that it brings them salvation. It is also believed that the deity was originated from western part of Nepal. It has helped to make this area as center of Tourist attraction. In Janai Purnima Buddhist's Yar tang Mala celebrated here
Kunda: In front of MuktinathTemple there are 2 Kunda (Water pond), It called Saraswoti & Laxmi Kunda, Where holy dip is believed it can wash away negative karma, the results of one's past negative actions.
After completing prayer and puja at the temple a visit to Mharme Lha Khang Gomba, the monastery dedicated to Guru Rimpoche (Padmasambhava) with his huge image situated to the North of Muktinath Temple.
Jwalamai Temple: Continuously burning flame "Jwala Mai Temple" sound of flowing river is situated south of Muktinath Temple. The Jwala Mai temple has a spring and there are three eternal flames "Holy flame from soil", "Holy flame from rock" and "Holy flame from water" fed by natural gas. Currently two flames are continuously burning. Hindu believes that this miracle of fire lighting was offering made by Brahma, Hindus worship the fire as Jwala Mai (Lit. Goddess of fire). The Buddhist called Dhola Mebar. Gomba Samba, a newly built monastery with main deities Sakyamuni, Chingresig and Guru Rimpoche situated at left from entrance gate of Muktinath temple complex, would be worth it.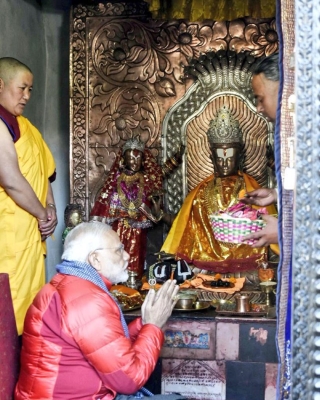 This is the only place on earth where you can find all five elements from which everything is made, according to the Buddhist and Hindu tradition: fire, water, sky, earth and air at the same place together in their own and distinct from this place is near Jwala Devi temple.
According to Sri Vaishnava philosophy it is considered to be one of the Divya desam (108 in total) or holy places of worship of Lord Vishnu praised by Alwars in a compilation called the Nalayira Divya Prabandha.It is said that one has to be gifted to get the darshan of Lord Sri Murthi and Goddess Sri Devi Thayaar.
One Hindu Guru connected to Muktinath is Lord Shri Swaminarayan, Satguru of Sabij Yoga, the goal of which is the realization of and service to God Supreme. At the end of the 18th century this Satguru practiced severe penance in Muktinath for two and a half months and attained the highest degree of proficiency in Nishkamrat In 2003 his followers funded the new wall around Muktinath and raised a small monument for him at Muktinath.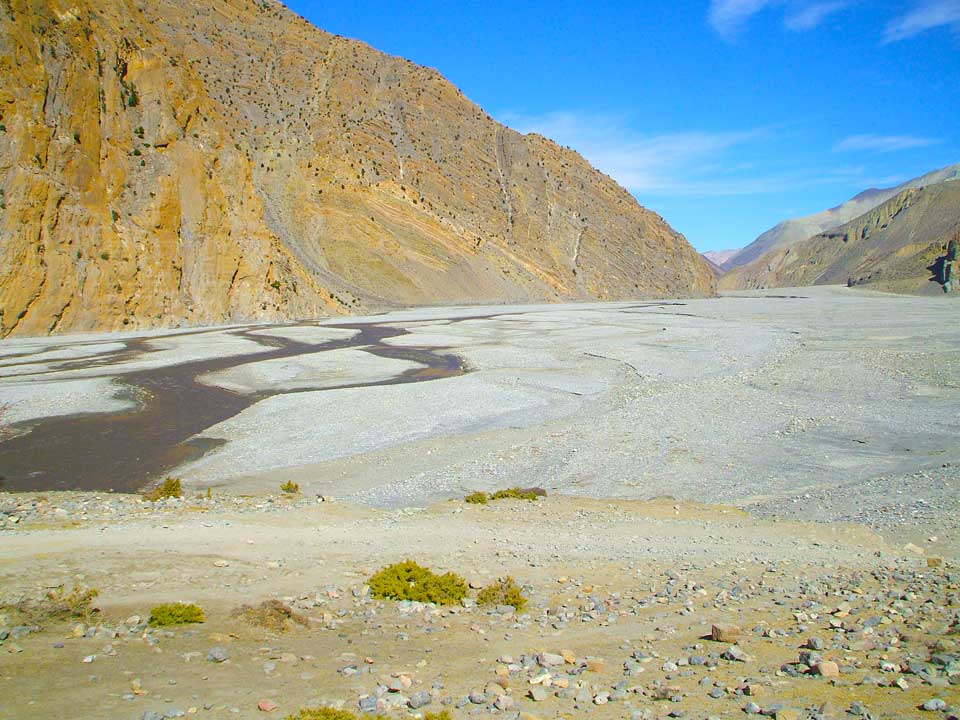 Another attraction for the pilgrimage is the River kali Gandaki from where one can collect fossils of the Jurassic park age. One may find a fossil within a few minutes or it may take hours and without success. However, these fossils can be had from the local people at a price. Shaligram, a black stone fossil if found, is considered sacred and is kept in pooja (prayer) room in the house. It is supposed to be symbol of Lord Vishnu.
Gomba Samba, a newly built monastery with main deities Sakyamuni, Chingresig and situated at left from entrance gate of Muktinath temple complex, would be worth it.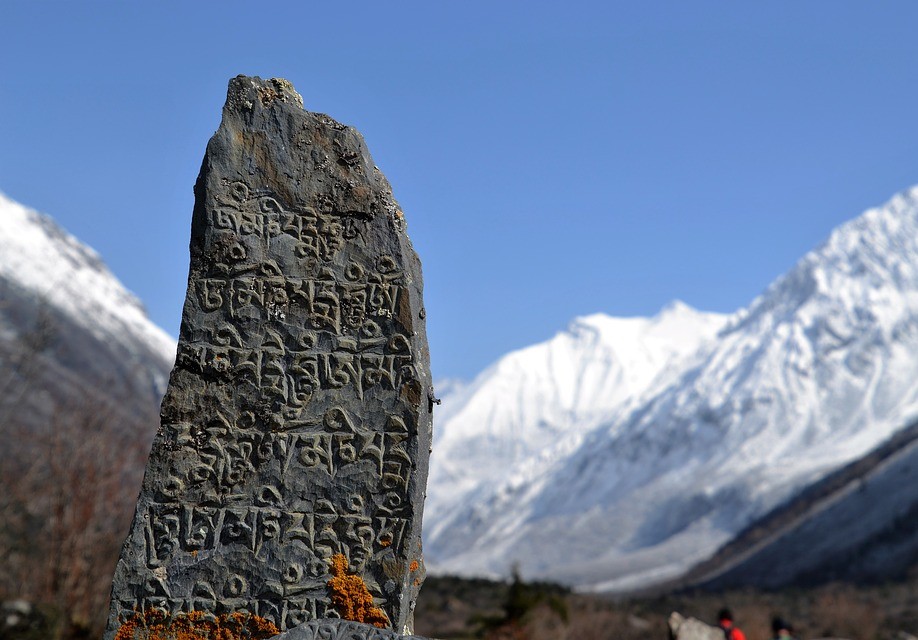 Worship & festivals
The Buddhist nuns take care of cultural heritage inside Muktinath temple. A local Nun manages the pujas in the temple. Pilgrims who go there should offer prasad to the deity. The entire river bed has Shaligram stones which are used to worship Lord Vishnu. Photography and filming of deities inside Temple and Monasteries is strictly prohibited.
This place is opened throughout the year but especially in Rishitarpani, Ram Nawami, and Bijay Dashami thousands of pilgrims gather here to celebrate the festival.The most suitable time to visit Muktinath is from March to June, and September to November as the weather conditions would not be safe enough to travel in other months. The journey passes through many archeological sites and temples.
Thirumangai Alvar could not reach Muktinath, but had sung from nearest place in praise of Lord Sri Murthy. Periyalvar sung in praise of Sri Murthi as "Salagramamudaiya Nambi".
Once Pilgrimage journey made to this holy Muktinath, holy dip in the Kunda and bath beneath of 108 waterspouts "Muktidhara" is believed to bring about salvation (Moksha) and to fulfill your wishes.
We welcome you to visit the highly religious place of Muktinath, where you will enjoy and discover you are on your special journey.