Luxury Kathmandu-Nagarkot-Pokhara-Bandipur Nepal Experience Tour
Overview
Trip Information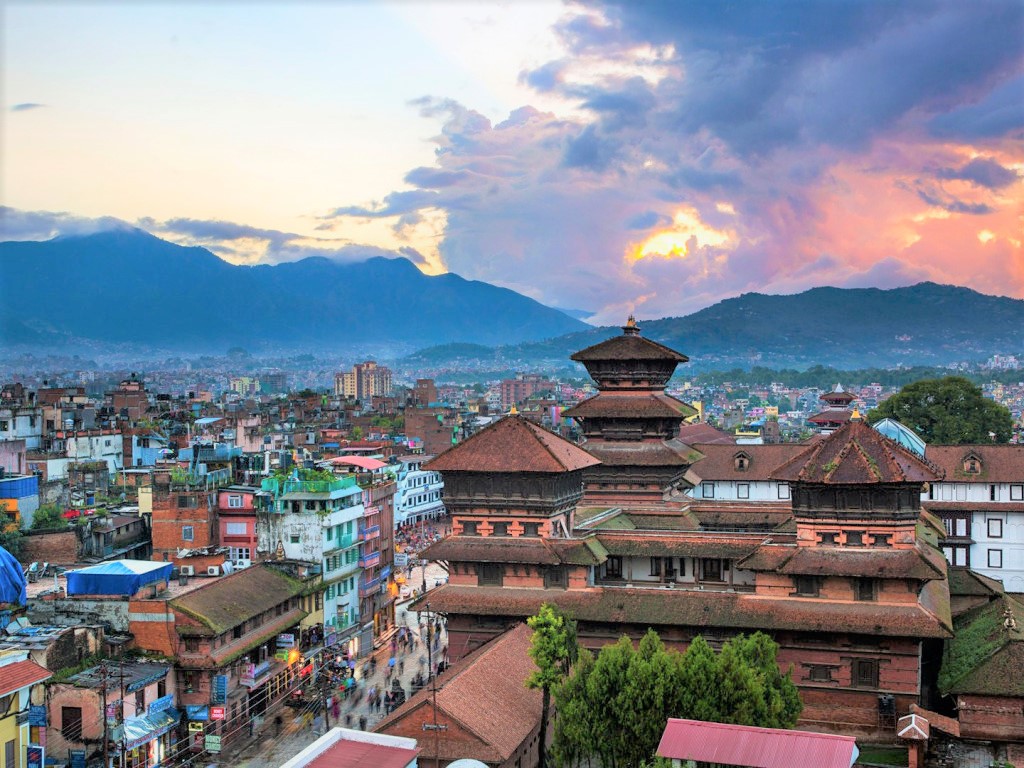 About Kathmandu: Kathmandu Valley is a legendary land where Gods mingle with mortals; ancient pagoda-roofed temples. The history begins with the Buddhist saint Manjushree who sliced a passage in the surrounding hills to drain out the water and made it inhabitable. Extremely fertile agricultural land, flourishing trade and a deeply religious, people worked together to trans-center of art and culture unparalleled in the Himalayan region.
The three cities, Kathmandu, Patan, and Bhaktapur are adorned with artistic monuments, fabulous palaces and mystical temple squares. The quaint streets echo to the music of festivals and flash in the color of sacred celebrations. Temples embellished with gorgeous artworks and houses decorated with exquisitely carved windows line the streets of the three cities. And high above the valley are the world's greatest peaks forming a protective cordon around this amazing land. These three cities are known as "City of temple and culture", consisting of many ethinic groups mainly consisting of Newari group who have the most aspicious food and culture.
Bhaktapur is the city of unique Architect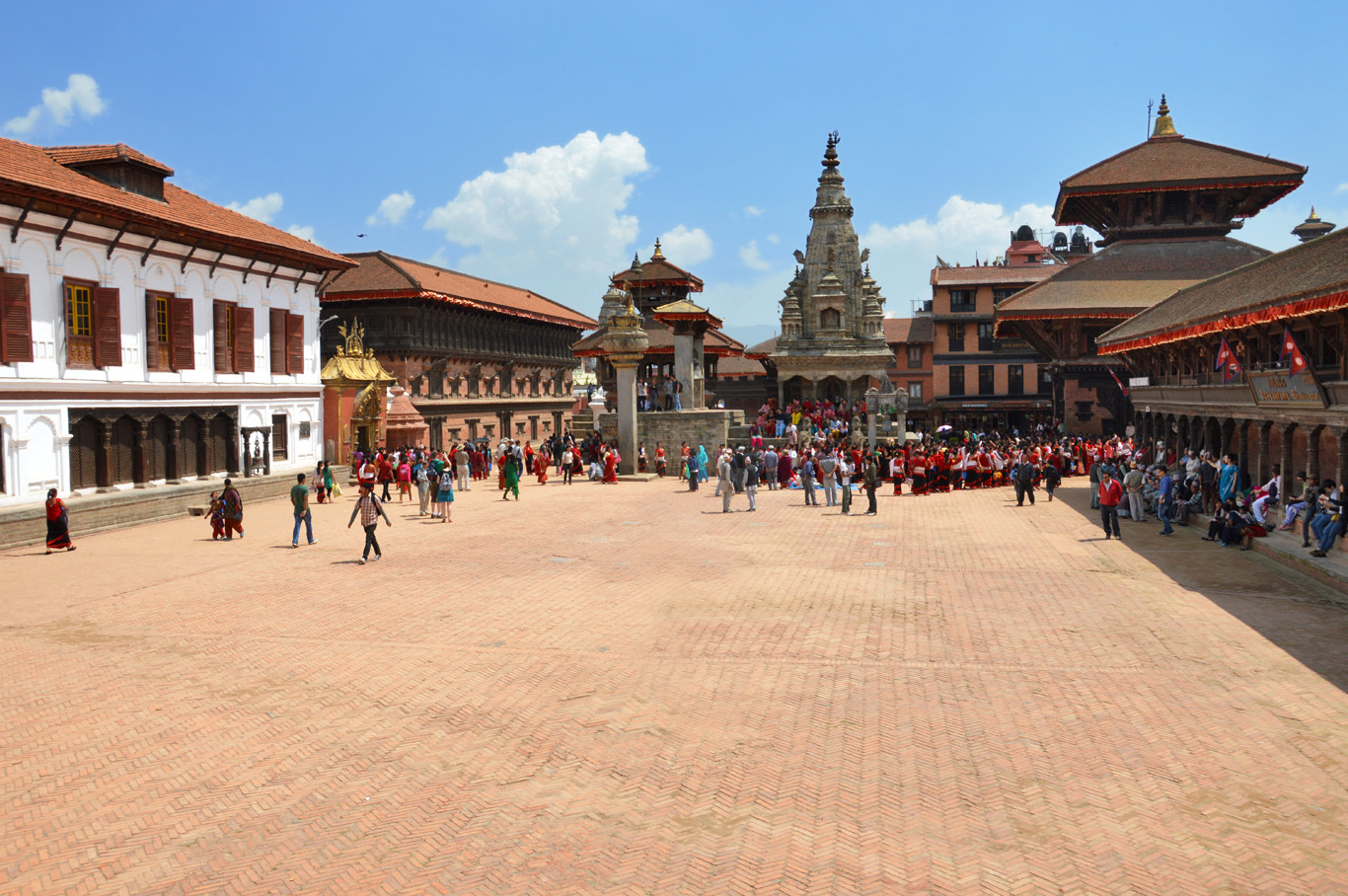 Bhaktapur has the best-preserved palace courtyards and old city center in Nepal and is listed as a World Heritage Site by UNESCO for its rich culture, temples, and wood, metal and stone artworks.The city is famous for a special type of dahi (yogurt) called Ju Ju(king) dhau(curd).
It is the home of traditional art and architecture, historical monuments and craft work, magnificent windows, pottery and weaving industries, excellent temples, beautiful ponds, rich local customs, culture, religion, festivals, musical mystic and so on. Bhaktapur is still an untouched as well as preserved ancient city that is itself the world to explore for tourists.Here are so many heritage Sites to view our ancient history.
Nagarkot is one of the super Himalayan mountain Sunrise/Sun set view point, visit local villages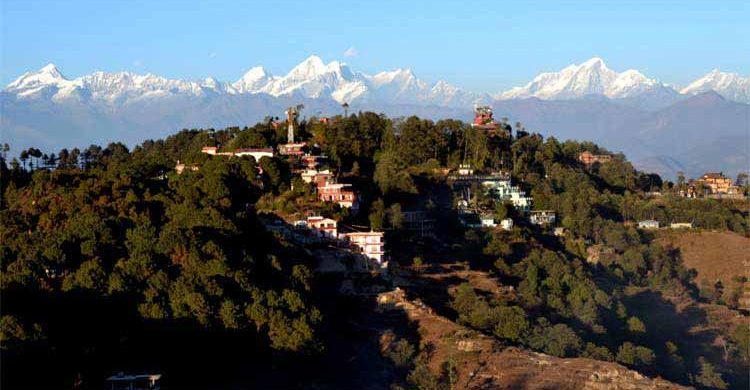 About Nagarkot: Nagarkot is an international tourist destination with spectacular views of the whole Langtang range, sunrise on the mountains and sunset views. Located approx. 7200 ft. (2100m) above sea level and 28 km from the Kathmandu airport (TIA), Nagarkot is a world famous hills station commanding breathtaking views of the majestic Himalayas, rolling hills, deep valleys, lush pine forests in a quaint rural atmosphere.
Considered as the best viewpoint spot to enjoy the magnificent sunrise and sunset with spectacular Himalayan vistas, Nagarkot commands one of the broadest views of the snowcapped Himalayas in the Kathmandu valley (8 Himalayan ranges of Nepal out of 13 from here). The ranges include Annapurna range, Manaslu range, Ganesh Himal range, Langtang range, Jugal range, Rolwaling range, Mahalangur range( Everest range) and Numbur range with splendid views of the Kathmandu valley and Shivapuri Nagarjuna National Park.
Pokhara is a piece of heaven on the earth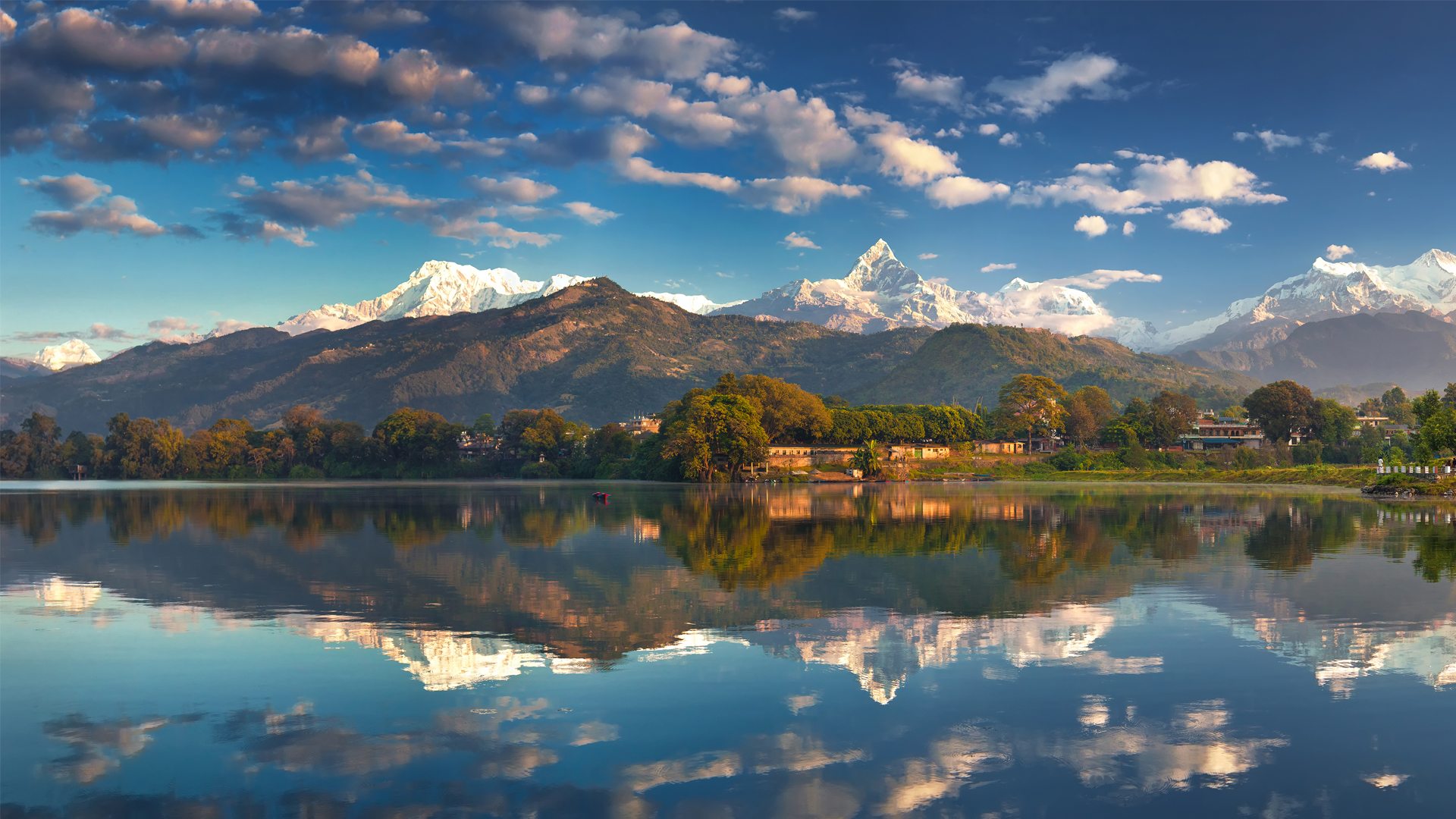 About Pokhara: Pokhara is a remarkable place of natural beauty. Situated at an altitude of 960m from the sea level and 200km west of Kathmandu valley, the city is known as a center of adventure. The enchanting city has several beautiful lakes and offers stunning panoramic views of Himalayan range consisting Annapurna and Dhaulagiri Range..
Pokhara is part of a once vibrant trade route extending between India and Tibet(China) To this day, mule trains can be seen camped on the outskirts of the town, bringing goods to trade from remote regions of the Himalaya. This is the land of Magars and Gurungs, hardworking farmers and valorous warriors who have earned worldwide fame as Gurkha soldiers. The Thakalis, another important ethnic group here, are known for their entrepreneurship.
Sarangkot a view poin of majestic Himalaya range, A Shangrila of Nepal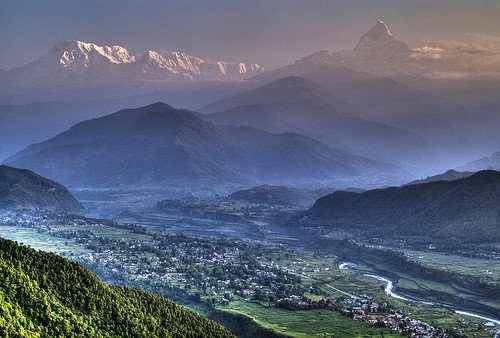 The view of the Annapurna Himalaya from Sarangkot is almost a religious experience. From here, you can see a panoramic sweep of Himalayan peaks, from Dhaulagiri (8167m) in the west to the perfect pyramid of Machhapuchhare (6997m), the tent-like peak of Annapurna II (7937m) to Lamjung (6983m) in the east.
It is a hilly station coming with a local community having resturants and lodges. The main village is just below the ridge, but a set of steps leads uphill to a dramatic viewpoint, the site of an ancient kot (fort).There's a ruined fort at Kaskikot (1788m), a one-hour walk west of Sarangkot along the ridge road, with similarly jaw-dropping views
Sarangkot is only 5 km from Lake Side from Pokhara and highest view point at 1592m high for Sunrise and Sunset view over the snowy peaks. Sarangkot can be reached easily by 45 minutes by a car ride to the top from Pokhara and then 45 minutes hike up to the main view point.
Begnas Lake the isolated mirror lake of Annapurna range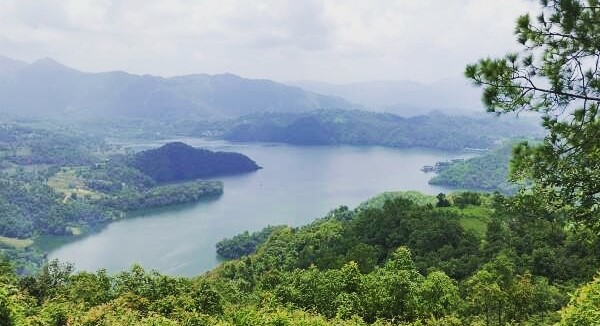 Located on Lekhnath,Kaski Begnas Lake is out of town and away from the hustle, Begnas Tal is quiet, clean and peaceful. There are a few basic hotels to stay in and the odd refreshment shop. The walk along the road leading to Begnas Tal is fascinating, the seasonal rhythms of daily life in the country make great images.It has a Fish farm below the lake, producing very tasty fishes.
Begnas Lake is the second largest lake in Pokhara after the Phewa tal. Located in the Kaski district, Begnas is freshwater lake is rarely overcrowded with tourist which makes it so much better and cleaner than other lakes in Pokhara. Towards the north side of the lake are swamps and villages which in the recent years have seen a major increase in the amount of terraced fields around the lake. Particular portions of the lake are used as caged fisheries, a reason why Begnas has a renowned market of freshwater fishes.
Bandipur Village, Mountain View & Special Local Village Easy Tour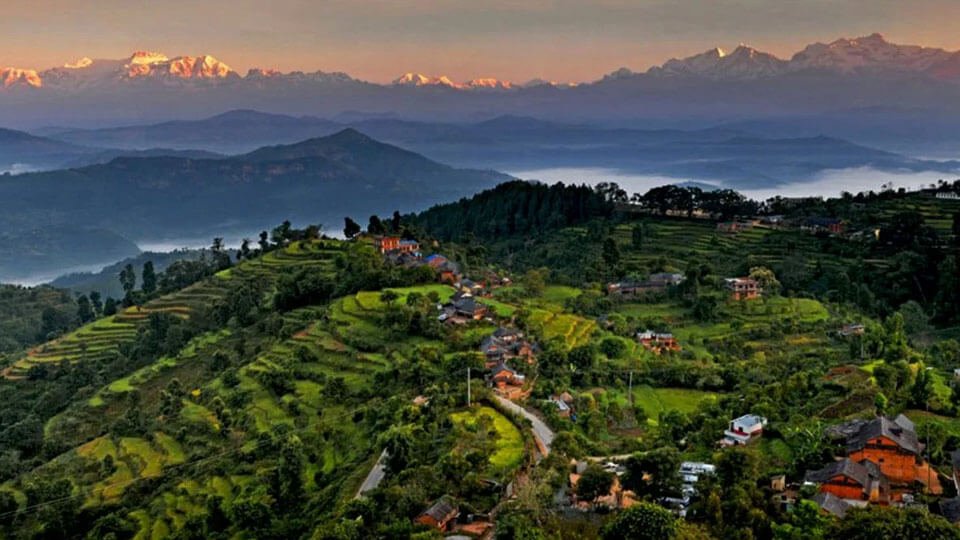 About Bandipur: Bandipur is one of the famous tourist village located in the Tanahu district. Bandipur was established as a funneling point of trade by Newar traders from Bhaktapur in the Kathmandu valley after it had been conquered in bPrithvi Narayan Shah. They took advantage of its malaria free location to develop it into an important stop along the India Tibet trade route. With them they brought their cultural heritage and architecture which basically has remained unchanged to this day.
Originally a simple Magar village in the early 19th Century, Bandipur developed into prosperous trading center and a community with town-like features: substantial buildings, with their neoclassical façades and shuttered windows and streets paved with slabs of silverfish slate.
Luxury Room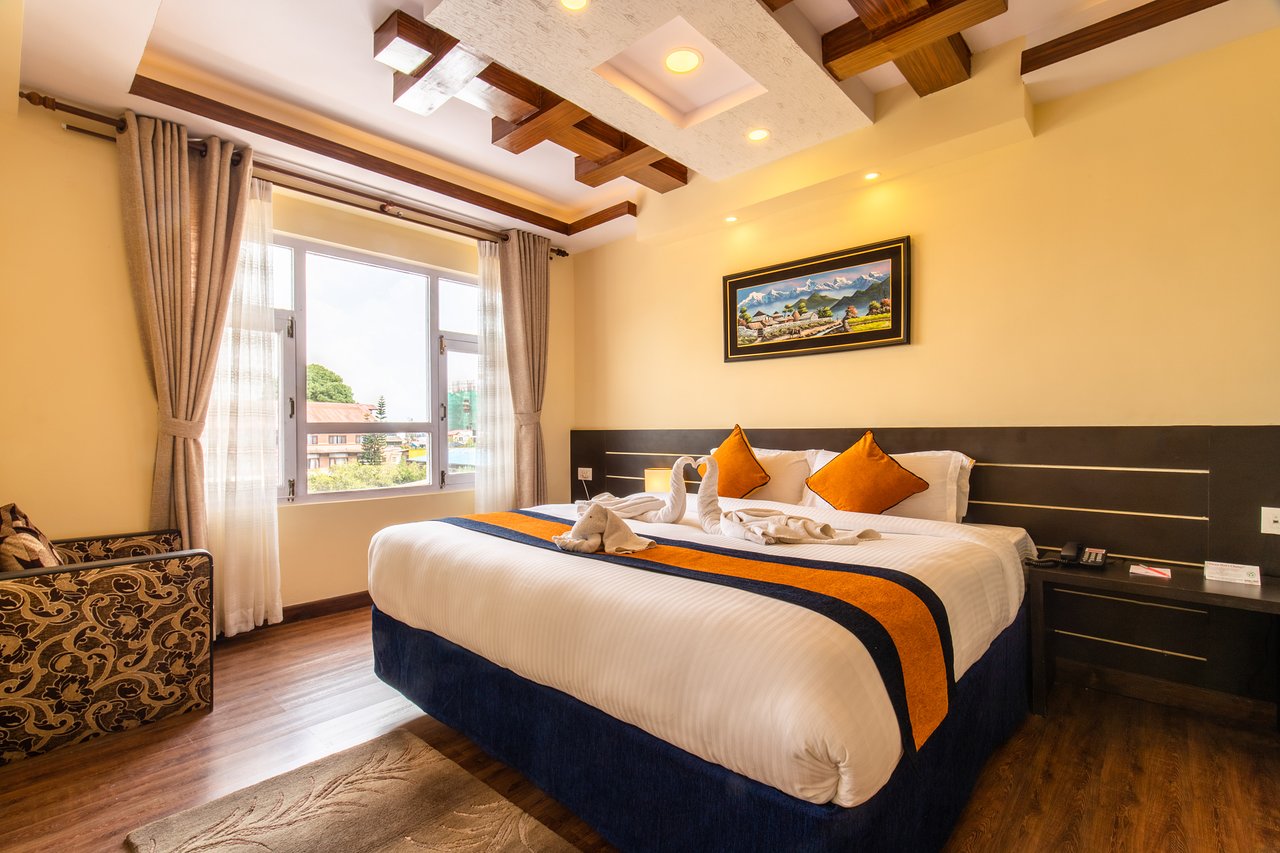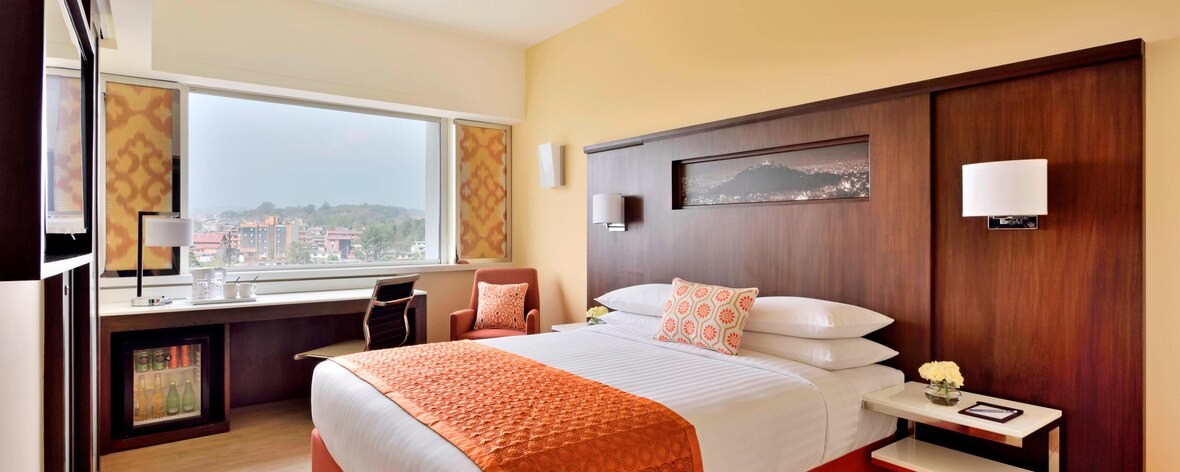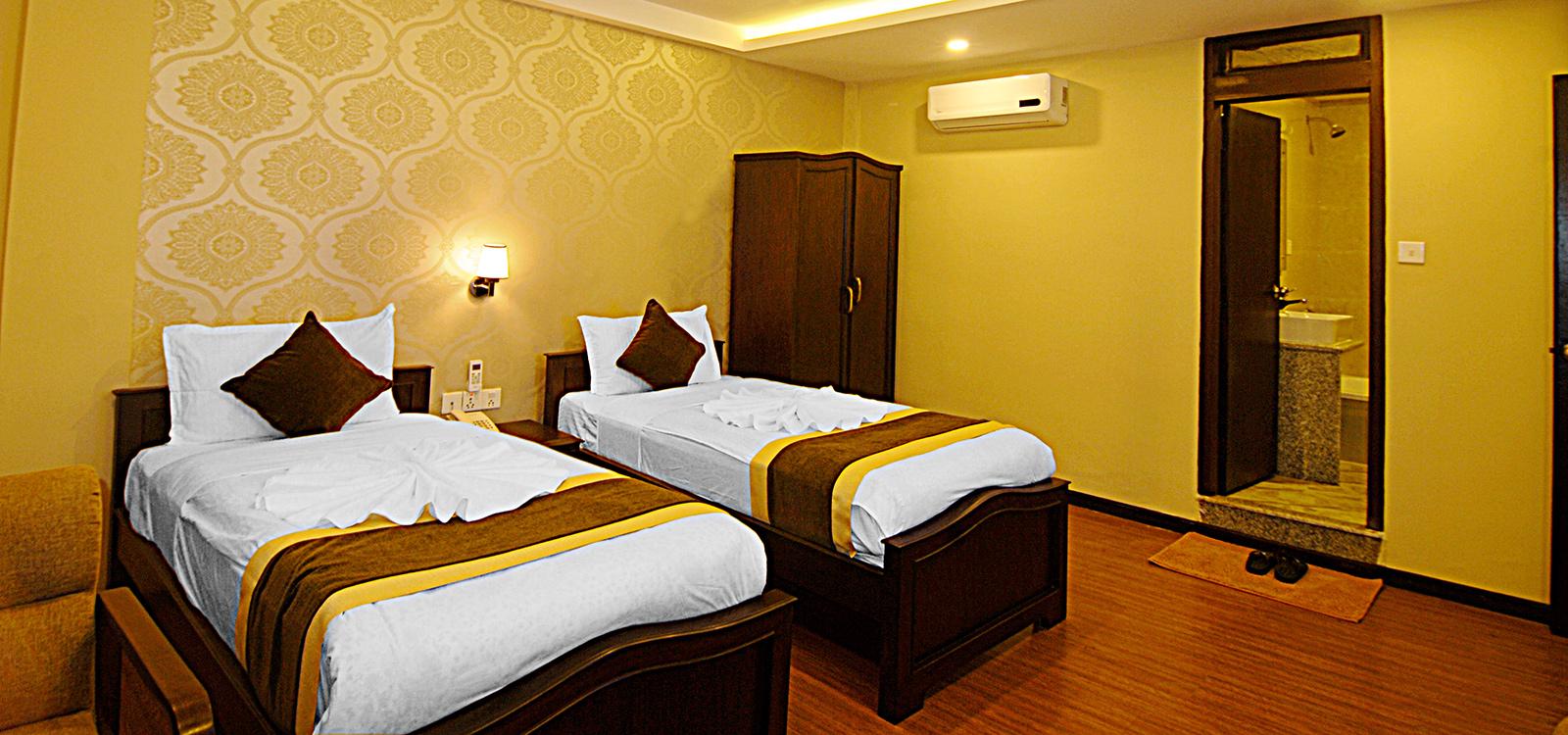 Detail Itinerary
Day 01:Arrival and meet day in Kathmandu Airport.
First we welcome you to home of Mt. Everest, Nepal, country of Himalayas. Upon arrival at Tribhuvan International Airport We will welcome you and assists to transfer to your hotel in Kathmandu. You will have to make rest day in Kathmandu bring briefing about your trip and overnight hotel.
Day 02:Sightseeing tour around the Kathmandu city. After Breakfast Visit Kathmandu Durbar Square, Hanuman Dhoka, living goddess – Kumari, Pashupatinath, Baudhanath, Swayambunath etc. Overnight at hotel, Kathmandu.
Day 03: Sightseeing tour around the Lalitpur (Patan) and Bhaktapur city Transfer to the hotel/resort at Nagarkot and overnight.
After breakfast we take luggage and Visit Patan Durbar Square, Patan museum. Drive to Bhaktapur and visit Bhaktapur Durbar Square, museum and temples. And we will be reach before sunset at nagarkot for sunset in Himalaya Transfer to the hotel/resort at Nagarkot and overnight.
Day 04:Early Morning sunrise Himalaya view at Nagarkot and after breakfast drive (7 hrs) En-route lunch at River Side Spring Resort. Here one can take a dip in a pool or explore around the Trisuli River, famous for rafting overnight at hotel.
Day 05: Early morning visit Hill side for surnrise and bandipur village tours many places to visit and culture, prople, traditional and Himalayas are main attraction and drive to Pokhara (4 hours). After lunch continue drive to Pokhara which is 2 and half hour from this point.
This will be the final leg of today's journey to our hotel. Welcome drink served at the hotel reception. Overnight at Hotel.
Day 06: Early morning Sarangkot drive for magic Annapurna, Dhaulagiri, manaslu, mardi himal range view with Sunrise and Return breakfast some rest and wholday city tours includes Seti George , Temples, old city, few lake and world peace stupa view. Evening hotel.
Day 07:After breakfast drive to Begnas Lake - en-route lunch. We continue a short trek through paddy terrace, a walk along the top of the narrow ridge with a climb of 1.30 hours horizontally upwards and then down through a forest until you reach another beautiful lake called Rupa Lake/Tal. After some time at Rupa Tal our walk takes us downwards, where we will see different species of birds, flowers and mountains. Drive back to Pokhara and overnight at Hotel.
Day 08:After breakfast , have a scenic himalaya flight from Pokhara back to Kathmandu. Lunch and Rest. Evening walk. overnight at hotel.
Day 09:Departure day in Kathmandu. See you again in the wonderful Himalayan country, Nepal. Today is free and last day, you have few hours special shopping for your friend and family to gift, relatives until your departure flight to your home country. Or any extra trips or activities you may have booked with us. You will be transferred to the International Airport for your departure flight to your home country. Hope to see you again in Nepal.
What's Included
Included in the Cost
Airport/hotel pick up & drop services
3 star Hotel accommodation with BB and tax plan as per the itinerary
All ground transportation as per the itinerary program by private vehicles.
Flight from Pokhara to Kathmandu
An experienced English speaking guide (trained by Ministry of tourism), necessary meal/accommodation/transportation/salary/insurance
City tours as above program
Our Service Charge and government taxes.
Not Included in the Cost
Your personal nature expenses.
Lunch and dinner any places as above
Temple/museum entry fee and National park fee are to be paid on the entrance of the places ( City tours) that are going to be visited.
In case of emergency your travel insurance covers up for hospitals, rescues or trip cancellation
Tips for Staff at the end of your Trip.
Our Service charge and government Tax.
Trip Fact
Duration: 9 Day(s)
Trip grade: Easy
Activities: Sightseeing
Group size: 2-4
SIMILAR TRIPS
People who viewed this tour also like...